Jean Tuttle
Background

Jean's art education began at home — a household filled with art, books, and "creative monkey business" by her mother Priscilla, a graphic designer and artist with a great eye and sense of fun.

Education & Early Career
After receiving her BFA in Illustration from Parsons School of Design, Jean based her studio in Manhattan for the next dozen years. By the mid-1980s she'd developed a high-impact, graphic scratchboard style, and had begun working with clients such as Newsweek, Business Week, The Boston Globe, Rolling Stone, and the New York Times. She also began a long and fruitful relationship with Reactor Art & Design, who served as her agent for the next 15 years.
Digital Evolution
It was through one of Reactor's partners, the visionary designer Louis Fishauf, that Jean was introduced to the computer in the late 1980s. She has used Adobe Illustrator to create her professional work ever since. In the last few years Jean has added CSS and XHTML, Dreamweaver, Fireworks, and basic Flash & Javascript to her skill set through Harper College's Web Visual Design Certificate program.
Awards & Recognition

Jean continues to illustrate for magazines, newspapers, advertisements, corporate communications, packaging and products. Over the years her images and self promotions have been featured in books and magazines about illustration and digital technique, including the Adobe Illustrator Wow! Book, The Business of Illustration, and The Designer's Guide to Global Color Combinations. Her work has been recognized with awards from American Illustration, Print, and The Society of Illustrators (Silver Medal).
From 2001-2003 Jean served as the board member in charge of programming for ICON3, the ICON national illustration conference held in Philadelphia in 2003.
Partial Client List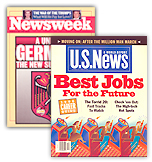 American Express, Barron's, Boston Globe, Business Week, Cedars-Sinai Medical Center, Children's Hospital (Denver), Ghirardelli Chocolates, Hartford Courant, Moosehead Breweries, Newsweek, New York Times, New York Magazine, Prevention, Reader's Digest Media, Reebok, Rolling Stone, Smith Barney, Sprint, Time, Time for Kids, Sports Illustrated, Trincero Family Estates, United States Bureau of the Census, U.S. News & World Report, Wall Street Journal, Washington Post